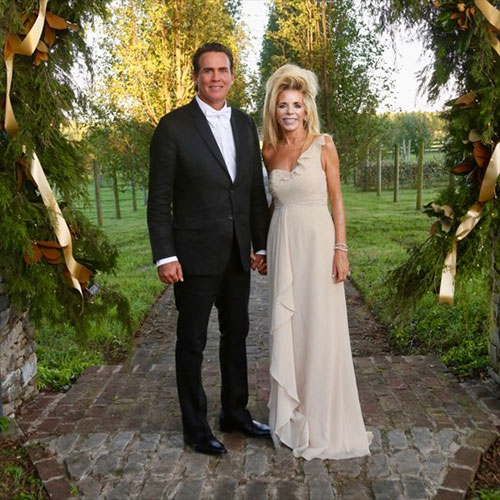 Joe & Gwen Lara
Gwen Lara, Founder of Remnant Fellowship Church and Weigh Down Ministries
Gwen Shamblin Lara's love for God and His Church, the depth of her compassion for the poor and the oppressed, her drive to help the needy and her infectious joy and genuine love for children raises the bar for those who work closely under her direction. She spends every waking moment on behalf of others – and then is often up in the middle of the night prayerfully seeking wisdom and guidance from the Heavens. Here is a collective effort to share her story, spoken and penned by those who know her best.
History
Over 30 years ago, in a small retail setting, Gwen began the "Weigh Down Workshop" a Bible study series that directed hurting, imprisoned souls how to turn away from destructive vices and unwanted behaviors and emotions – such as overeating, alcohol indulgence, anger and depression – and point them to a genuine relationship with God. The results of pointing seekers to the Truth in the Bible, along with the practical "how to" wisdom, produced phenomenal results. The once obese lost all their excess weight, addicts were no longer turning to their vices, and the depressed experienced true joy.
Participants even reported that their finances were being restored and their marriages were being healed – all a direct result from what they were learning and putting into practice through the Weigh Down Workshop Bible studies. Local churches heard of the life-changing teachings of Gwen and inquired if they could host Weigh Down Workshop classes in their own facilities…and a grassroots revival was soon underway.
In the Media
By the mid 1990's, news of the unprecedented results of the Weigh Down Workshop spread like wildfire and soon every registered church denomination hosted Weigh Down Workshop classes. Word of miraculous life transformations of the obese becoming thin and the addicts being set free ignited a media frenzy, catapulting Gwen, her book, "The Weigh Down Diet" and the Weigh Down Workshop to international status with appearances in nearly every major news publication, media outlet and talk show…and the Weigh Down Workshop rose to become the number one weight loss seminar in the world.
Soon, letters and phone calls flooded the Weigh Down office with participants reporting that they were not only losing weight, but they were understanding the Bible and how to put it into practice for the very first time in their lives.
Founding Remnant Fellowship Church
Longing to see God's will be done and His people taken care of, Gwen felt led to found Remnant Fellowship Church in 1999. Much like the early Church as described in Acts, the early members banded together, devoting themselves to the teachings of the word of God and prayer. They met together daily, encouraging each other to walk out their faith wholeheartedly with lives that reflect following the life of Jesus Christ and His love for the Father. As they continued to grow in steadfastness, they also grew in numbers across the globe. The Remnant Fellowship membership has now grown to over 150 churches in the U.S.A., Canada, Europe, Africa, Australia and more.
Donating 40 Acres in Brentwood
n 2002, God led Gwen to purchase 40 acres of land in the heart of beautiful Brentwood, Tennessee, and she donated the entire property to Remnant Fellowship Church. For the building of the Church, God directed Gwen to use the beautiful architectural design of the historic Old First Church in Bennington, Vermont, well known as the burial site of Robert Frost who authored the poem "The Road Less Traveled," an appropriately symbolic poem for The Remnant Fellowship Church.
During the construction process, Gwen was on site very early in the morning, tirelessly directing the various crews and always praying over every detailed decision. She was often seen with paintbrush in hand contributing to the labor, with her artistically gifted daughter-in-law, Elle Shamblin, by her side.
"I had the honor of working under Gwen's direction during the building of the Church. Her attention to architectural design and ability to lead are second to none…she has a level of wisdom and a gifting that I have not witnessed in anyone else. God clearly led and blessed her hand in accomplishing a great deal in a relatively short amount of time." – Joseph Langsdon
In November of 2004, the Remnant Fellowship Church in Brentwood opened its doors and celebrated a most glorious Dedication of the Church building. Not an empty seat was found nor a dry eye seen, as members from around the world gathered in joyful praise, worship and celebration.
Philanthropy
In 2006, Gwen donated the entire Weigh Down organization to Remnant Fellowship Church. She continues to work around the clock devoting every waking hour to one end goal: helping people of all ages, all around this world, find a relationship with God.
Donating her time, Gwen continues to speak publicly worldwide four to six times per week. She produces and hosts a weekly webcast TV program, the "You Can Overcome" show. She also leads and teaches weekly at the Remnant Fellowship Sabbath worship assemblies.
Aside from public teachings, Gwen donates countless hours counseling anyone who has a need. Whether it is a marriage, health, financial or parenting questions.
"The wisdom that God has given Gwen Shamblin healed our marriage and changed the course of our family history. And our marriage is just one of many that is completely healed. What is going on in this Church community is defying modern day statistics. " – Rob Day
Guiding the Next Generation
Gwen's love for children and concern for the next generation led her to start the Remnant Fellowship Summer Day Camp, as well as the Remnant Fellowship Home School Academy Cooperative. Beloved by all of youth in Remnant Fellowship, Gwen takes great delight and genuine care in meeting the needs and training up the next generation to live productive, godly lives.
"My family joined Remnant Fellowship Church when I was 8 years old. Growing up in this Church, I loved every minute of being a part of the Church and the Remnant youth group. I found a relationship with God and friendships that are stronger now than ever. I am now a married working professional – still a very active member of Remnant… and what I learned as a youth from Gwen Shamblin continues to be invaluable in every area of my life to this day." – Alec Leaman
Gwen teaches Bible lessons to the Home School and Summer Day Camp children and also can be seen on any given Saturday night at the Church building fellowshipping with and speaking to the Remnant Fellowship Youth Group.
Helping The Prisoners
Gwen's heart for the hurting and the poor in spirit is evidenced in her establishment of the Remnant Fellowship Prison Ministry, which reaches nearly 1,000 inmates in over seven states. She works daily with the Church's Prison Ministry, having traveled many times to meet with inmates and help them find purpose and hope and a new life, regardless of what their prison sentence may be.
Gwen's Biblically-based teaching has changed so many lives that the state of Georgia recognized the Weigh Down and the Exodus from Stronghold class as a Faith Contributor of the Year in 2013. Gwen continues to travel to inmate hospitals and prisons, and has plans to establish halfway houses to help released inmates transition their faith into productive, law abiding, meaningful lives.
Counseling and Assistance
Gwen's direction for the Church has been to meet the needs of the congregation first and then once each person is healed, he or she will reach out and meet the needs outside of the Church body. Through her direction, the practical, physical and spiritual needs have been met through 40+ ministries.
Whether the need is spiritual guidance, marriage counsel, parenting, career or education no one lacks for practical wisdom and no need goes unmet. Marriage Counseling, Financial Guidance, Food Distribution, Job Placement, Handyman Services, The Moving Team and Wedding Planning are just a handful of the ministries that Gwen felt led to start that are now completely run by the volunteer efforts of Remnant Fellowship members.
Author
Gwen continues to pour out her love for God as she has written many books and Bible studies since the original Weigh Down writings, including Rise Above, The Legend to the Treasure, The Tablet, The History of the One True God, The History of the Love of God, Weigh Down Works, and God-Fearing Families. In conjunction with these writings, she also has produced numerous video series. In addition, she has written many children's books and video series.
Family & Friends
Gwen, her husband Joe Lara, and their children and grandchildren live within a few houses of each other. They are a close-knit family who get together practically every day and thoroughly enjoy each other's company.
In a day and age where many children go away to college and rarely return, Gwen's children Michael and Elizabeth as well as their respective spouses, Elle Shamblin and Brandon Hannah, play very active roles in Weigh Down and the Church, devoting themselves to the work of Remnant Fellowship, the ministries, and outreach – and have done so for many years.
Gwen is very beloved by those who work under her direction. Many of the employees of Remnant Fellowship Church have worked for her since the height of Weigh Down and the establishment of Remnant Fellowship Church. They not only look to her as a leader but also a dear friend.
"I have worked under Gwen Shamblin's direction for nearly 20 years and I continue to be inspired by her deep love for God and drive to serve others. She is the genuine article – a brilliant and selfless leader, as well as a close friend." – Amy Stites