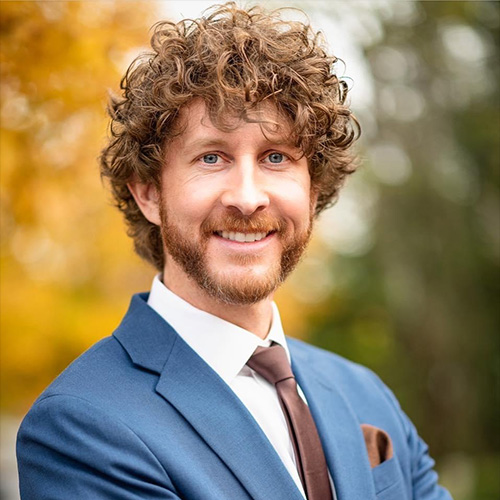 Anyone asked to characterize Brandon Hannah would, without hesitation, describe his love for God and Christ, his love for his wife and children, his love for his family, and his heartfelt love for Remnant Fellowship Church.
Brandon was raised in a small town in Middle Tennessee in a close and loving family, surrounded by extended family. In high school, Brandon met Michael Shamblin and they quickly became close friends. Shortly after that, Brandon also became friends with Michael's sister, Elizabeth, his mother, Gwen Shamblin Lara, and many of their close friends his age. Brandon, a very outgoing and loving person, was immediately drawn to the Shamblin family's love for God. He soon visited a few assemblies at Remnant Fellowship Church and was drawn to the "God first" teaching and the sincere kindness and dedication to God that he witnessed in all the members at the church.
Years later, he spoke about the changes attending this church initiated in his heart:
"The teaching was Biblical and full of fruit. My life started changing. Even though I looked the same on the outside, the personal changes inside were enormous, and I was experiencing spiritual fruit like I had never seen before. I am very thankful for what I got to learn here at Remnant, because it right-sided my whole life. The blessings of following God wholeheartedly made all the difference. You experience those changes and you realize, 'I do not want to go back to that old way of living.' These blessings are too good. This taste is too sweet of what God has given us for doing it right."
From that time on, Brandon ran after this message of loving God with all of his heart, in the example of Jesus Christ. His longtime friendships with others were loyal and filled with adventure and fun. As he entered adulthood, Brandon's admiration for Elizabeth grew as he fell in love with her heart, her kindness, her beauty, and above all, her love for God and for the Church.
In 2003, Brandon and Elizabeth were married on the beautiful Ashlawn estate in Brentwood, TN. Through the years, the couple was blessed with five children: Grace, Gweneth, Gloria, Henley, and Charles Grantham. Sadly, the couple lost Henley as an infant, but even in heartfelt grieving, they upheld God and continued to spread love and hope to all around them as true examples of how to live out Christ's example in even the most difficult of times. Grace, Gweneth, Gloria, and Charles Grantham have been raised beautifully in the example of their parents, shining with a humble love for others before themselves and a love of God above all.
In May of 2021, Brandon passed away suddenly in a plane crash, alongside his honored in-laws, Gwen and Joe Lara, and his beloved lifelong friends, David and Jennifer Martin and Jonathan and Jessica Walters. Brandon will be deeply missed by his cherished wife, his children, his church family, and his parents, sister, grandparents, and extended family.
Elizabeth spoke the following words about Brandon:
"He was truly the most loving husband and the greatest father to his children. There was no one who met Brandon Hannah who didn't instantly love and trust him, for it was evident with every word, deed, and action that he was a trustworthy man. Worthy of much respect. As a husband, he took care of our family daily and he always asked if there was anything else that we needed. He was a man who held true appreciation for everyone around him. Our children lit up when he came home from work. He was the most fun dad of all, and he was named "Uncle Fun" by all of the cousins. There was no hobby that Brandon did not try and there was no challenge he did not conquer. He loved his parents, his sister, his extended family, his friends, his church, and above all else, Brandon LOVED God. He truly lived out the message from Remnant Fellowship to take care of God first and others above yourself."
The legacy of this man will live in on his children and his wife, along with the countless individuals and families who have been changed by his Godly example. Brandon's wise counsel was a constant source of peace for those around him. He prayed over everything and sought the Spirit of God for every decision. Brandon was well-known for always putting God and the Church first in all areas, and he was often sought out by other men in the church for his advice and guidance as a true example of a Godly man. He excelled in his career in as an award-winning Realtor as well, due to his honest nature and Christian commitment to treat every person with respect and honor. He was, in every circumstance, a staunch defender of Remnant Fellowship Church, the church leaders, and the teaching and foundation of the Church. Brandon's kindness, integrity and righteousness was evident to all, and this legacy will be upheld by his family and friends for generations to come.