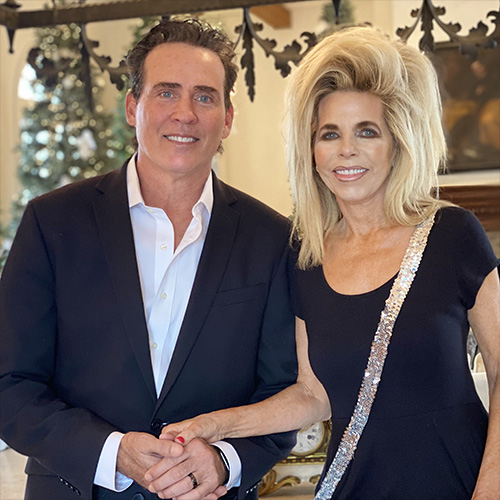 William Joseph Lara was devoted to the Church, to his wife, Gwen, and to his daughter, Liana. Joe came from a very diverse background and enjoyed many unique experiences during his lifetime. Born and raised in California, Joe excelled in many sports. As a young adult, he travelled to do modelling in Paris, Geneva, and Milan. Along the way, Joe discovered a love of acting, and he went on to appear in over twenty movies and television shows shot on location all over the world. He was best known for his title role of Tarzan in the TV series Tarzan: The Epic Adventures.
Joe relished a love of adventure, which was reflected through excelling in many diverse hobbies. Joe enjoyed being a licensed falconer, a licensed pilot (flying from 16 years of age), an advanced open-water scuba diver, a surfer, an accomplished boxer, and a highly trained marksman. He had a deep passion for and cherished all animals, specifically horses, and he spent several years living outside L.A. on his own ranch.
Desiring to find a calmer way of life than L.A. offered, Joe moved with his infant daughter and his mother to Tennessee in 2011. Being very spiritual at heart, Joe yearned to find a church that would point him to God and Christ while helping him grow as an individual and as a father. In late 2017, this desire led him to Remnant Fellowship Church, pastored by Gwen Shamblin. After visiting the church several times that winter, Joe found himself in awe of the changed lives he witnessed and the sincere people he experienced at the church, and he wanted to learn more. As he spent more time around Gwen, her wholehearted love for God and genuine care for everyone around her became a beacon for him, and he found himself falling in love with her.
In August of 2018, Joe had this to say about Gwen in his wedding vows to her:
"From the day I first met you, you have been unequivocally the most gracious, wholesome, and kind person I have ever known. There have been many times that I thought I would never find someone to share my life with, but I realize now that everything has always been leading up to you—my true soulmate. You are my long-awaited best friend, and I am so grateful to God that He finally led me to you!"
Joe, his daughter, and his mother were fully embraced by the Shamblin and Hannah families as beloved and essential parts of the family. Already devoted to Remnant Fellowship and helping to serve the church members as often as he could, Joe quickly became an essential part of the church's leadership team. He dedicated himself to the service of others, taking time to help, love and guide those around him daily. Joe especially enjoyed working with the children and youth of Remnant; with his adventurous and diverse background, he quickly became a true favorite and a gentlemanly example to the young men in the church. Joe and Gwen generously opened their home to church events and loved spending time fellowshipping with church families.
Realizing the spiritual and worldly attacks that can come to those standing up for God and His Word, Joe was always very protective of the church and of Gwen, proclaiming in his vows,
"If the dark forces should ever manifest themselves against us, I vow that I will never stand behind you because I will be in front of you, helping you to pave the way! God has not only put it on my heart to protect you—but also to protect this Holy message that He has anointed you to preach… so I vow to protect this temple and message with ALL my heart."
Joe and Gwen loved to laugh and have fun experiencing everything God has to offer. They thoroughly enjoyed sharing this joy and their love for God through their YouTube channel, Life with Gwen and Joe. Producing over 50 episodes where they invited viewers into their day-to-day life, Joe and Gwen shared their love, their family, their friends, and even their adventures, with anyone who also wanted to devote themselves to a fun life with God at the center of everything.
Joe served the church and his wife, his daughter, and his beloved mother every day until his sudden passing in May of 2021 when he and Gwen perished suddenly in a plane crash, along with their son-in-law Brandon Hannah and very close friends David and Jennifer Martin and Jonathan and Jessica Walters. Joe leaves behind a legacy of love for God, a love for family, a love for anyone seeking to live in the example of Christ, and a love of the adventures and joy that life can offer. Joe Lara's love and laughter inspired everyone around him, and his legacy will live on in the hearts of his family and friends.
For information on Gwen Shamblin Lara, please visit her memorial site HERE.